Group business courses
For client companies, MULLER WWL organises group language courses for those who are required to use foreign languages every day in their business relationships.
Group courses are structured in such a way as to learn a language and use this in professional contexts.
Who?
The staff of your Company who are required to operate on  foreign markets.
How?
With the Entry Exam, the Needs Analysis questionnaire and interviews with the teacher, we analyse the profile of each student in order to form classes of the same level.
We draw up a teaching programme which is then agreed with the client company.
The programme includes review and learning of grammatical functions, adopting effective learning strategies for professional use of the language. The course also includes exercises and texts that allow students to track their progress in achieving their learnings objectives and which are also notified to the company.
Where and when?
At our offices in Turin (a short distance from Porta Nuova railway station) or at the company's site, according to a schedule defined with the client that takes into account the company roles and the professional commitments of the participants.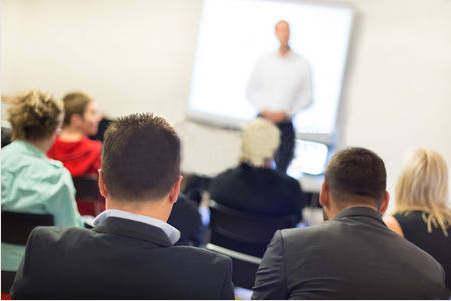 Contents?
Group business courses are tailored to the specific requirements of each company and the professional role of the participants. They are based on flexible modules that permit concurrent acquisition of  verbal skills,  grammatical structure and specific terminology and address specific topics such as:
writing commercial or technical e-mails
reading and understanding documentation (contracts, bids, quotes, etc.)
managing a commercial phone call or negotiation
drafting a presentation
speaking in public
through written and oral exercises and role-playing which reproduces the professional situations in which each participants may be involved every day.
Our qualified, strictly native-speaker teachers also introduce socio-cultural topics so that students are able to acquire the confidence necessary to "break the ice" in a natural manner and converse without difficulty in a foreign language.
FUNDED LANGUAGE COURSES for WORKERS can also be organised according to current funding programmes.